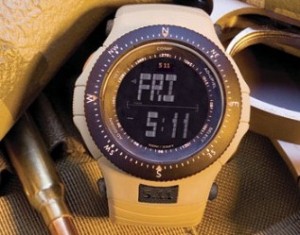 5.11 has partnered with Horus Vision to bring their software, usually installed on a handheld PDA device, into a watch platform. Months of development and field testing ensure that the software works with equal precision in a watch format.
Popular among police snipers, long range tactical shooters and big game hunters, Horus Vision's unique software enables shooters to accurately calculate their bullet's trajectory and drop at extended ranges, up to and beyond 1000 yards.
Horus Vision allows shooters to calculate their bullet's point-of-impact (POI) by inputting the following information and variables.
• Temperature °F/°C
• Altitude (Metric & US)
• Height Above Bore
• C1 Ballistic Coefficient
• muzzle Velocity
• Zeroed Range
• Wind Speed
• Wind Direction
• Target Range
• Inclination Angle
• The firing solution may be displayed in MILS, TMOA, SMOA, or in number of CLICKS.
Field Ops Watch (New Design) Description:
High-density polycarbonate frame
SureShot™ calculator
Rubber wrist band
Digital compass
Digital readouts
Uni-directional bezel
Backlight
Waterproof to 30 meters
Optional extended band for wearing the watch over gloves or clothing
Day, date, 2nd time zone, alarm, chronograph, countdown timer, hourly chime
Countdown timer features an audible tone every minute
Once again, innovation is the "watch" word for 5.11 Tactical Series.  When we set out to design a watch we wanted one that would truly serve the needs of law enforcement.  The Field Ops Watch has all of the features needed for day to day activities and includes our revolutionary SureShot™ calculator.  In a partnership with Horus Vision, makers of proven long-range ballistic software, we bring sophisticated point of impact software to your wrist.  We give you the ability to input thirteen critical variables needed for long range shooting solutions quickly and easily.  Our shooting solutions are provided in Mils, True Minute of Angle (TMOA) and Shooter's Minute of Angle (SMOA).  And that's not all, this rugged watch can take a real beating.  We've beefed up the Field Ops Watch pins to stand the strain of a wrestling match, sealed the watch for 30 meters of water resistance and given you a controlled backlight so you can see your data when you need it.  This great looking timepiece is perfect for any activity.
Functionality
The Field Ops Watch has all the features you'll need for work and play.  We've included digital day, date, and two digital time zones.  Along with an audible alarm, there is an hourly chime, a countdown timer and you can check your lap times with a digital chronograph.  We've included a uni-directional bezel along with a backlight.  The Field Ops Watch also has a fully functional digital compass which can be adjusted for true north readings.  And last but not least, we've given you a full function ballistic calculator.  The SureShot™ calculator accepts thirteen critical shooting variables to give you point of impact shooting solutions out to 1000 meters.  Input your known ballistic data (bore height, ballistic coefficient, muzzle velocity and zero range), then add your environmental data (range, temperature, altitude, inclination) and the SureShot™ calculator will give you a shooting solution in MILS, TMOA or SMOA. You can even get your solution in clicks for both windage and elevation. The calculator is very easy to use and most of the variables can be put into the Field Ops Watch before going out to the field.  This full function time piece is unique in the world of watches.
Durability
The Field Ops Watch has a high-density polycarbonate frame which is light weight and tough.  The mineral crystal face is scratch resistant and reduces glare.  We've beefed up the watch pins to secure the watch to your wrist in even the most arduous activities. 
Hardware
The Field Ops Watch has a lightweight titanium case, comes with a hard rubber band.
Fit
We've included an optional extended band so that you can wear your watch over outerwear.  That way your SureShot™ is available anytime you need it.
Value
The Field Ops Watch is a great value for the number of features and quality of materials.  The high-density polycarbonate case, proprietary software, digital compass and multiple features give you an outstanding watch that looks great and works hard.
Buy 5.11 Tactical Field Ops Watch "Black"
Buy 5.11 Tactical Field Ops Watch "Coyote Tan"
Posted by admin @ 10 May 2010