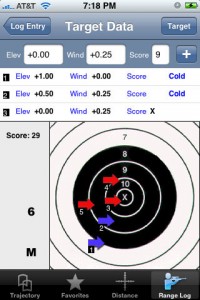 Ballistic is the definitive ballistics trajectory calculator for the iPhone.
Ballistic calculates trajectory, windage, velocity, energy, and bullet flight time for any valid range, and can compensate for atmospheric conditions such as temperature, barometric pressure, humidity, and altitude (it can also accept density of air or density altitude input).
It's also much more than a basic trajectory calculator. With a vast library of over 3,100 projectiles and factory loads, range estimation calculator, GPS and atmosphere awareness, full-size charts, and a functional range log, Ballistic is a complete mobile companion for hunting or at the range.
The world-renowned JBM Ballistics computer is now powering all of Ballistic's computations. JBM is used by world-class shooters everywhere to deliver some of the most precise calculations. This great ballistics computer is now available in the palm of your hand and simpler to use than ever.
Fully integrated split-screen ballistics, favorites, and range log
Automatically updates ballistics calculations as you edit
Full screen, hi-resolution charts!
Rotate in any orientation
Larger target sizes in range log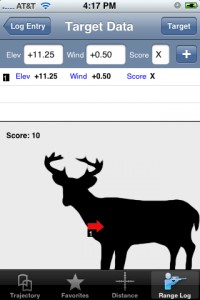 Ballistic Features
An Expansive Ballistics Library
Select from a library of over 3,100 projectiles and factory loads from leading manufacturers, military projectiles, or specify your own projectile properties. The library includes the latest 2010 commercial data and G7 military coefficients from Aberdeen Proving Grounds. Just select your bullet diameter and all of the available projectiles will appear, sorted by manufacturer. Auto-select the best factory load by wind drift, energy, or flatness. Ideal whether at the range, or comparing boxes of ammunition at the store.
JBM Ballistics Computer
The JBM Ballistics computer, written by James B. Millard, is among the world's finest ballistic engines in existence. Used by competition shooters, hunters, and the military, this powerful ballistics library delivers precision results. Results are what it's really about, isn't it? The JBM engine also adds new features such as velocity adjustments for chronograph, optimum point blank range, upwind (z-wind) correction, and midrange/downrange wind sources. When other ballistics applications look to measure their accuracy, they use the JBM engine as their gold standard. In addition to the JBM ballistics engine, Ballistic now also calculates gyroscopic spin drift, Coriolis acceleration, and bullet stability. Bullet stability helps you determine if your barrel twist can support a projectile at a given velocity.
One-Touch Atmosphere(TM) (Core Location)
Correct your calculations for the current atmosphere by pressing the Core Location button. Your altitude, standard pressure, temperature, relative humidity, and wind velocity will be automatically set based on your current location and information from the NOAA National Weather Service or GeoNames. A global setting allows you to set which fields are updated. Manual entry can also be made. When calculating Coriolis acceleration, the iPhone 3GS' built-in compass can automatically acquire your Azimuth to accurately calculate the correct adjustments for both windage and elevation.
Bookmarks and Save State
Bookmark your favorite calculations and recall them later, or load them back into the ballistics calculator to tweak them or generate charts. Add notes to your bookmark to display underneath the bookmark title. Your bookmark will retain your ballistics information, zero, atmosphere, range, and all other data from your calculation. In addition to bookmarks, Ballistic can be configured to automatically save the last calculation in its active editor, and recall it the next time you start the application. Or leave auto-save turned off, and tweak the default values you'd like loaded whenever you use the application, such as zero range, wind velocity, and everything else.
Angle Acquisition
Aim the iPhone at the target like a remote control, then press the LOS Angle table cell. After a three-second countdown, the table cell will be updated with the correct shooting angle to the target based on the accelerometer reading. A preview label displays the angle prior to capturing it. The angle can also be inverted by 90° making it suitable for use in a weapons mount. The HUD (Field Tactical Edition only) automatically locks onto your current angle and updates your calculations every second.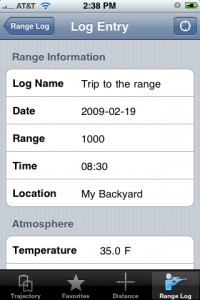 Ballistics Charts
Ballistics charts allow you to display the energy, velocity, and drop for your current projectile, or compare up to eight projectiles together on the same screen. Your current atmosphere and zero are automatically applied to all projectiles, so you're comparing apples to apples. Compare bullet path and energy or wind drift. Ballistic will also show you trajectory charts based on altitude or shooting angle. Zoom up to 300% or save a full-size chart to your photo library and transfer it to your desktop, or send a full-size chart in an email.
Variable (Stepped) Ballistic Coefficients
Support for variable (stepped) ballistic coefficients for many popular projectiles including Sierra MatchKing®, GameKing®, and ProHunter®. Variable coefficients allow for more precise calculations and overall better accuracy by adjusting the bullet's flight to fit the commercial G1 drag model. Ballistic also supports all G1-G8 drag models.
Automatic Drag Model Conversions
Automatically convert between two different drag models. Ballistic will recalculate the ballistic coefficient and adjust its trajectory to fit the new drag model. This is ideal if you only have a G1 coefficient for a VLD, spire point, or other types of uniquely-shaped projectile, as it allows you to apply a more accurate drag calculation. This may improve your long-range accuracy beyond that of the standard G1 calculation provided by the manufacturer. Wish your manufacturer produced stepped BCs? Convert the drag model to apply a more suitable drag.
Minimum, Maximum, and Optimum Point Blank Range
Ballistic automatically calculates your minimum and maximum point blank ranges based on your zero and the vital zone radius you specify and will display these in the form of red arrows. The JBM engine can also calculate your optimum point blank range and will display this in each calculation. In addition to this, the sonic boundary will be marked with a yellow line.
Full Metric Support
Global settings exist to change the units of measurement for distance, atmosphere, and all other units. This includes bullet drop, altitude, sight height, wind speed, temperature, pressure, velocity, and energy. Favorites are automatically converted so that you can retain your zero and atmosphere, but apply the same calculations to either yards or meters. In other words, your favorite will stay zeroed at X yards, and give you accurate output for Y meters, and vice-versa. Elevation and windage output can also be specified in In, Cm, MOA, IPHY (Inches per 100Y), 1/8 Minute Clicks, 1/4 Minute Clicks, 1/2 Minute Clicks, and 1 Minute Clicks, mRad (MIL), .1 mRad, .2 mRad, .5 mRad, Cm/100M, and 1/2Cm/100M. A custom click value can also be provided for scopes with nonstandard MOA click values. When in metric mode, the inches column automatically changes to centimeters. A global preference selects between USMC and Army Mil-Dot specs.
Mil-Dot and MOA Distance Estimator
Calculate distance using Mil-Dot or MOA reticles. Supports conversions including inches, cm, feet, yards, and meters. Supports both USMC and Army Mil-Dot specs.
Range and Scoring Log with One-Touch Notes
Range log to keep a journal of all your hunts, shoots, adjustments, points of impact, and scores. Touch the Core Location button to automatically fill in your current coordinates, which you can later recall into the Maps application. Query the NOAA National Weather Service for local atmospheric and weather conditions. Range log can automatically tally your target data cards and even keep track of your X's. Choose from a variety of targets including standard, F-Class, pistol, silhouette, archery, buck targets, and more. Different targets for zero data cards are also available. Use your zero data log entries as a source to set your calculations' zero atmosphere, or run scoring and cold barrel reports for each rifle.
Reloading Data
Reloaders can store their reloading information with each bookmark, including powder type and measure, COL, brass, and other information. Ballistic automatically calculates OGW (Optimal Game Weight) at both muzzle and zero, TKO (Taylor Knock-Out Factor), and IPSC Performance Factor.
Very fast and precise calculations, even at long range
Ballistic undergoes heavy testing and comparison with known data and has satisfied many in accurately reflecting true-to-life trajectory. It compares very well to well-respected ballistics packages such as Sierra's Infinity suite for the desktop. Whether you're using the JBM Ballistics computer or the original Ballistic engine, world-class results are what our world-class shooters are expecting – so we'd better deliver.
Share trajectory and charts via email
Full-size trajectory results and ballistics charts can be shared via email.
Midnight Skin
Turn on the midnight skin if you prefer an all-black theme.
Posted by admin @ 16 July 2010
Tags : iPhone/iTouch/iPad apps